Automated volume measurement
LoadMon is a brand-new log measurement solution used to acquire accurate information about a load by measuring the width, length and height of a collection of logs. Apart from its displacement measurements, the average diameter is also calculated. It can also detect loading errors and large cavities. All these can be accomplished without any form of human intervention.
This solution can also be used for the measurement of biomass, ore, bulk wood or any material that can be loaded into open containers. You can use LoadMon to measure missing trailer capacity. It will give you a result that encompasses an image of what the upper view looks like, displaying the height differences; different colors are used to display the heights.

Key features
Precise volume measurements
Load heights distribution
Segmentation of load (load distribution per section)
Volume alerts (under/mismatch/over)
Speeding alerts
Recognition of license plate number
Right, top, left views of a load
Truck in 3D view
Usage
This solution can be used to measure bulk wood, biomass, roundwood, logs, ore, wood chips or any other material that has been loaded into the open containers. It is designed specifically for industry operations like mining (both metallic and non-metallic), biomass, construction (aggregates), forestry and other similar bulk materials.
On-site application
This is used to control traffic light, analyze and construct the truck's 3D model, detect the license plate of a truck, control sensors and offer barrier remote control. This software makes it possible for you to view the 3D image five seconds after the truck drives through its sensors. The operator then checks the image, after which the truck is cleared to leave. You can also operate the software remotely.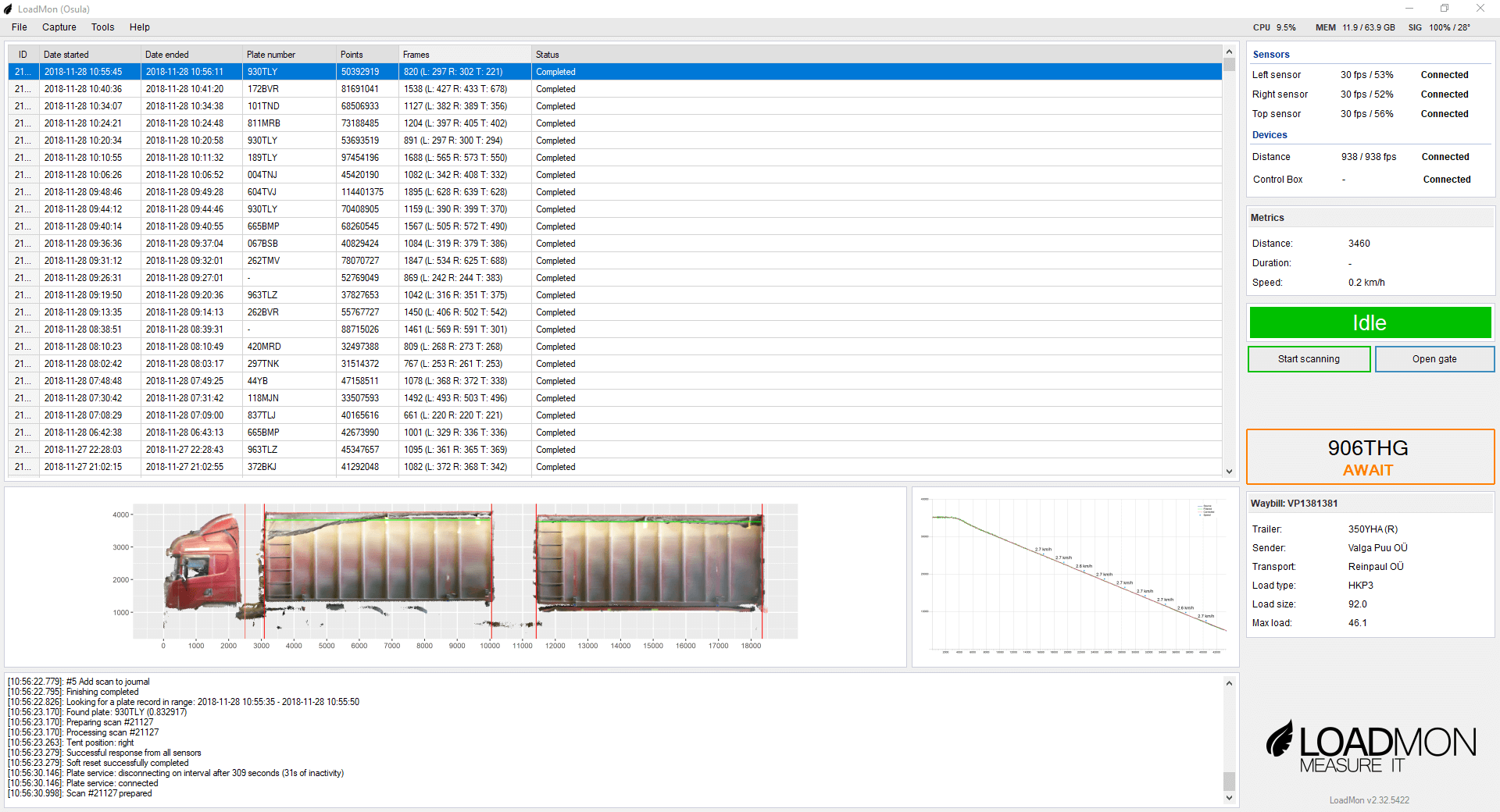 Web portal
Web application offers a convenient and easy way to utilize the results. It provides modules for managers, logistics companies and operators. It allows you to check results, drop comments, create your own reports and check out the detailed statistics on loads, quality, trucks and efficiency. This portal is easily integrated with client and third-party solutions including ERP systems. All the functions can be utilized from any handheld device, and a 3D view.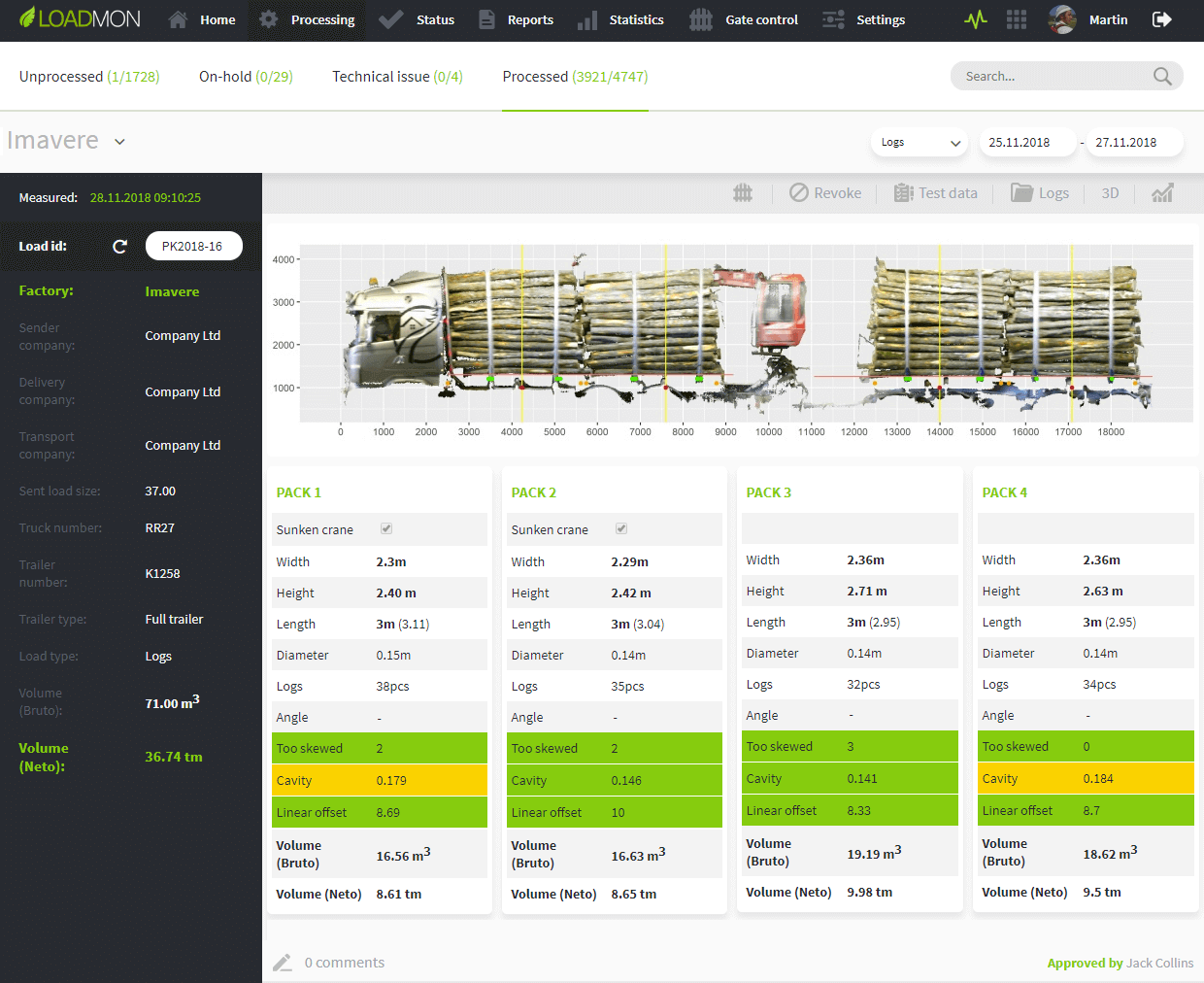 How it operates
LoadMon can design a complete 3D model of a truck, measure its dimensions, analyze the load characteristics and calculate its volumes. You can automate the process or decide to run it under operator supervision. There's no need for human intervention once the process commences.
1. Detect
As soon as the truck arrives and is detected, the application automatically displays the truck's license plate number and all the additional information like contract, waybill, load and vendor details. The system then begins the scanning process.
2. Capture
The millions of points used for the construction of the truck's three-dimensional model are captured by the sensors. The system automatically stops capturing while proceeding to the next stage as soon as the truck passes through the sensor.
3. Pre-process
The system processes the data collected and constructs a 3D prototype of the truck. The model is set within 10-15 seconds of scanning, which means the operator can view it if there's need to. The system automatically begins the next stage as soon as this particular stage is ready, which means it is ready for a new truck.
4. Analyze
Here, the system accurately analyzes the data collected, calculates dimensions, diameters, volumes, measures log packs and checks for any error. All these can be done without any form of human intervention.
5. Auditing & Results
Web application gives room for operators to take a look at the results, including some detailed info about the load and the truck. The top and side images of these segments and trucks can be found on all the scans. You can also get a complete 3D model of this truck. Users are allowed to check invoice information, post comments and create reports.
Contact us
We're always happy to answer any question you might have about this solution, so don't hesitate to contact us for more information.