Automated wood measurement
LoadMon is a solution created for professional automated wood measurement. It's an excellent choice because it allows you to measure loads of wood quickly and easily, be it the height, length or width of your particular batch. You get to learn more about the load, and then you can also identify the average diameter too.
LoadMon will also measure automatically and show any errors and problems that might appear. Since you have great automated wood measurement, the process is very convenient and reliable. Aside from that, you can also check the missing trailer capacity, not to mention you can see any height difference with the use of colors. Very interesting and convenient, to say the least.

Key features
3D view for the truck
You can measure volumes accurately
Professional load height distribution
Different load views
Automatic license plate number identification
Alerts for volume and overspeeding
Where to use
You can use LoadMon in a variety of situations, mostly for the measurement of wood, however it also works for materials stored in open top containers. That's why you can use this tool for biomass, construction, mining and in the forestry industry.
On-site application
In regards to on-site application, LoadMon can control traffic lights, create a 3D model for the truck and also analyze it adequately. In addition, you get to check the image and make sure that the truck can leave without a problem. Remote operation gives a stellar set of new and exciting features, and the app as a whole is very easy to use too.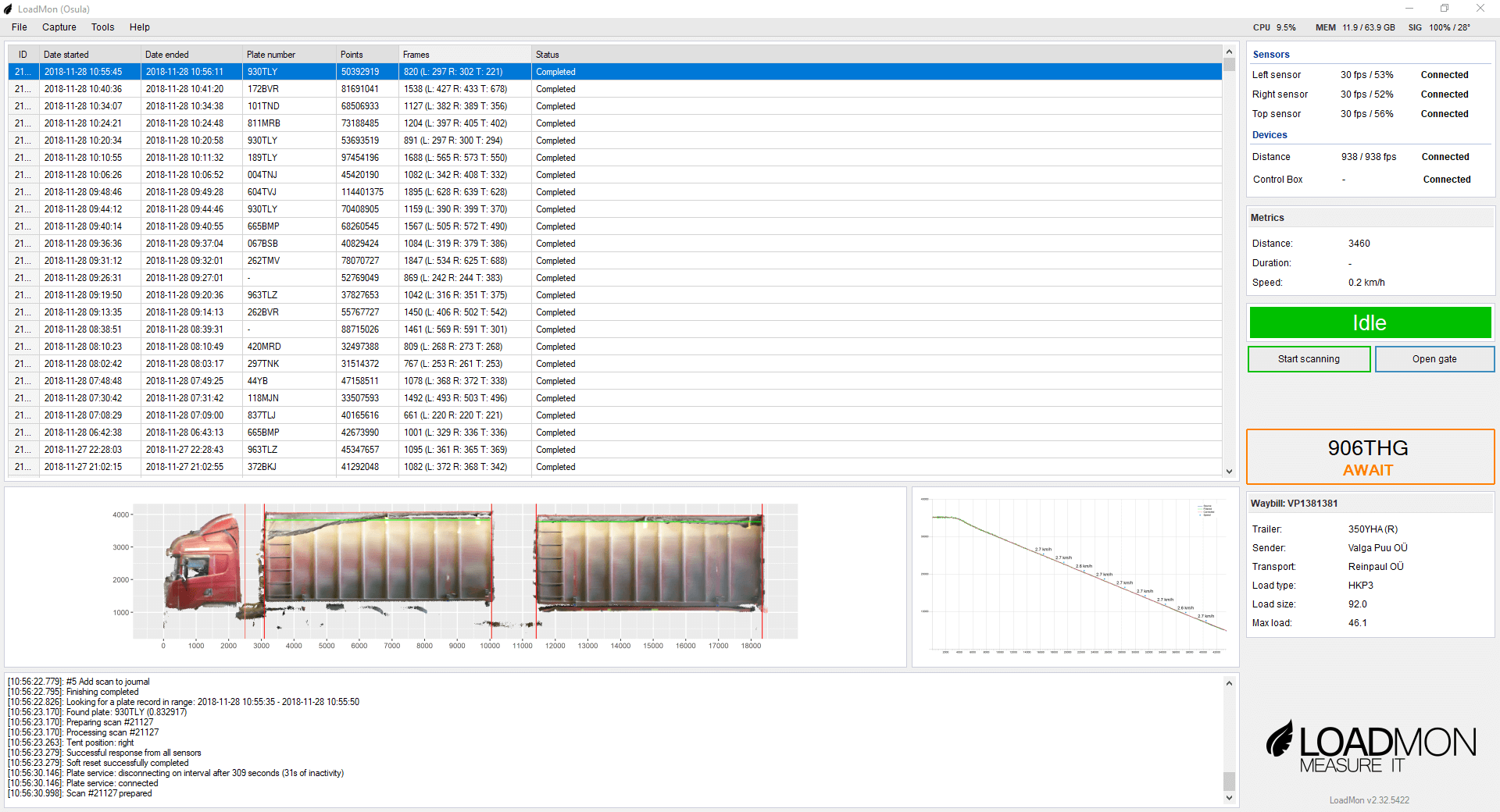 Web portal
You can use the web portal in a variety of ways, it allows you to leave comments, check results, even generate a report. The portal is suitable for immediate integration with ERP systems and third party clients too. LoadMon even has dedicated modules for logistic companies, operators and managers too.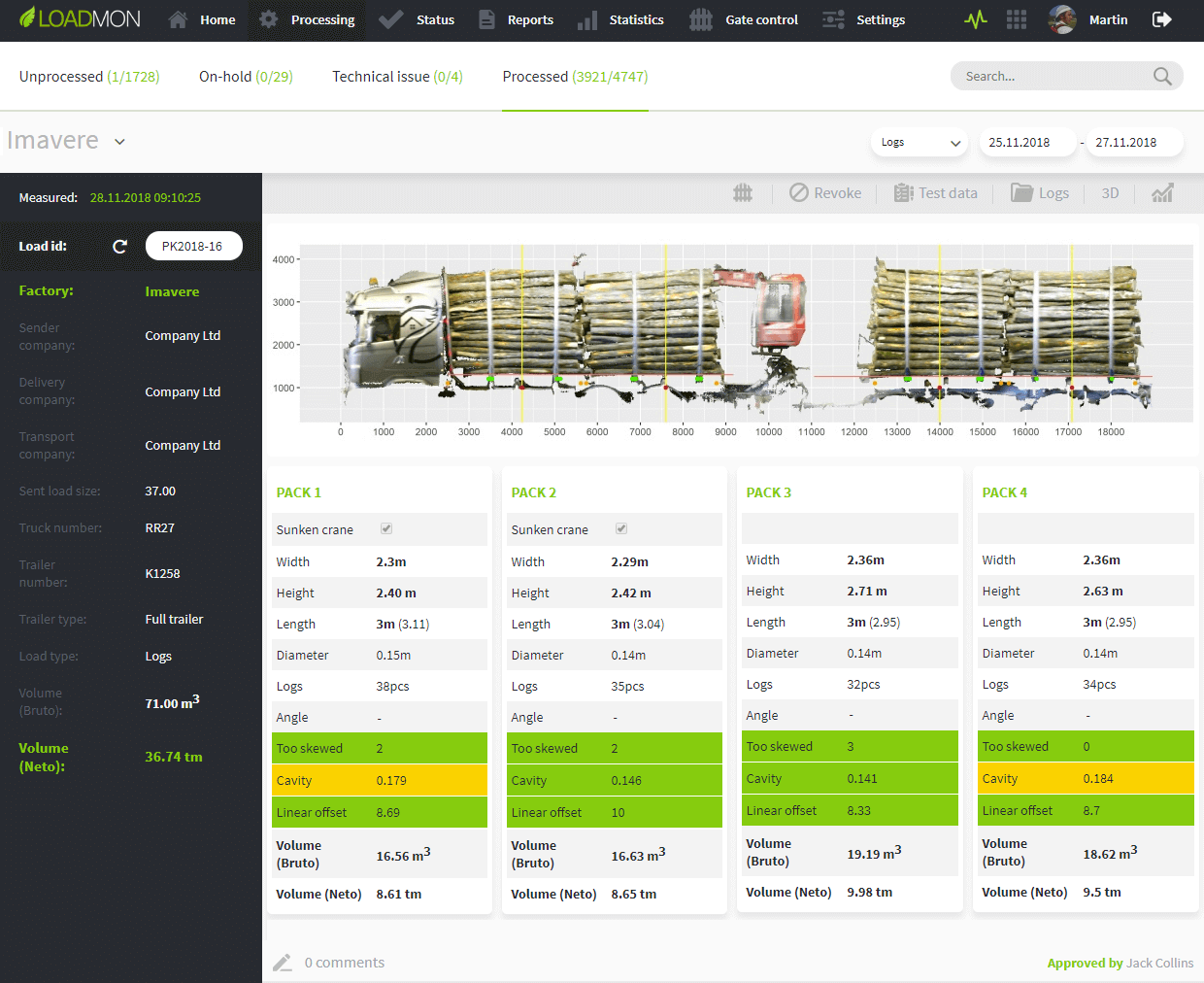 How it works
LoadMon will create a complete model in 3D for your truck. It will study the truck dimension, calculate the volume and then the process can be easy to adapt and adjust in any way that you want. There's no need for human intervention either.
The first process will automatically detect the truck, its license plate load details and other important stuff. It can then go onward with scanning.
The scan or capture process will use millions of different points to create a very accurate model of that truck. As soon as the truck goes through the sensor, this system will stop capturing and it will go onward to the next step.
In pre-processing, the collected data is used to create a truck model, this might take up to 15 seconds. The operator can then move the entire system to the next stage, however, LoadMon can also be used to work on another truck now.
During the analysis process LoadMon will analyze all collected data, study the loc packs, volumes, see if there are any errors and so on. All of that is performed automatically to avoid any issues and potential problems.
Lastly, you have auditing and results. This helps you view any information related to the truck and a comprehensive checkup of the truck can also be assessed this way, which is very handy and interesting. You can create reports, identify the invoice info and share comments.
Get in touch with us
In case you want to know more about the solution or have any questions, don't hesitate and get in touch with us. Our team will be more than happy to assist.